results and general remarks
The competition of the 98 was held in October 23rd(Fri),24th(Sat) and 25th(Sun) of October. The 23rd was a practice, the 24th was a first day of free performance*, the 25th was a second day of free performance.
(*At first plan, 24th was a regular performance without BGM, it had been changed to free performance due to poor weather. the regular performance weight positioning and technique much more than artistic point.)

The Friday was a poor weather, but the practice was held normally with BGMs.
Audiences were few for the first day but Jurgis and other pilots shows us their showmanship, for example, to perform surprising inverted flight then inverted loop just after the takeoff run.
They sometimes made a low pass flight just before our eyes or often they flew even below us! It was a real surprise. The grandstand seat position(eye position) of the motor sports circuit makes this miracle.

The second day was a poor weather again. The contents of the competition had slightly changed as noticed above.
In the confusion, an unlucky thing was, Elena Klimovitch made a mistake to miss the music cue and she flew without BGM. It reduce some points and it pushed her out of honor position.

The opening of the show was an unusual five planes formation flight by "lone wolves".
In the afternoon, there were some attractions including funny race of Honda-Acura NSX sports car versus Jurgis's plane and exhibition flights by four pilot
s.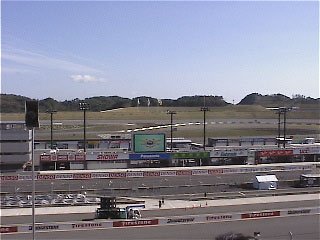 And the last day, the sky was clear up and we had a nice weather!
This was a best setting for the best pilots and the best stage.
To view the amazing flights, please take a look at my "The Flights" page.
To summarize, Jurgis Kairys(Litany/Shoi31) won the competition. In the next prize,Nikolay Timofeev(Russia/Skhoi31) turned the table and got the second prize.
Dominique Roland(France/CAP232) remain the third.

In the afternoon, there were attractions again. But This time more tough opponent - NASCAR racing cars stood at the front of Jurgis's Skhoi31. -- However, Jurgis made an ultra low flights at the nose of NASCAR and put smokes over them :)
You can view this also on the flights page.

It was a really great show and competition. We all audience were very happy.

This year 1999, we will have a same show at the same place.
I hope meet you at the TRM!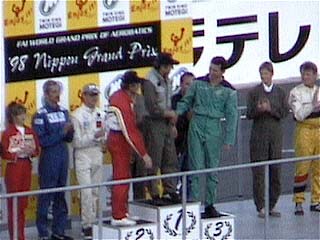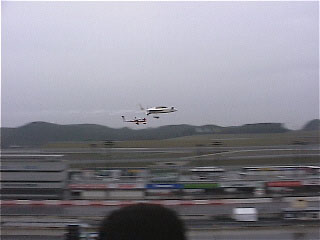 Two of guest planes, Acro EZ and cri-cri.
It was another surprise that they made a great acrobat flight in such a small plane!