I made this page as a review of my flight training, and you can take a ride with me on the Cessna.


The graphics of this page has been made by following items,
GPS:
Garmin GPS III Pilot & PC link kit
Software :
2D CG....waypoint, street atlas 5.0
3D CG.....Kashimir 4.0 / 5.0(Beta)
*3D digital terrain data :
USGS(U.S. Geological Survey) provided
1 degree DEM (digital elevation model) - LongbeachEast (Local flight)
30 degree DEM - California (XC flight)
---
A flight is recreated as shown: (Actual a half of hour flight)
Marked as TOA is a location of Torrance airport. After taking off from 29R runway, round Paros Verdes peninsula with counter clockwise direction.
The red rout is a actual flight path which is recorded by GPS path tracking software. Then I down loaded it through PC link kit and merged it with PC generated 3D graphic(in this case: Kashimir5.0).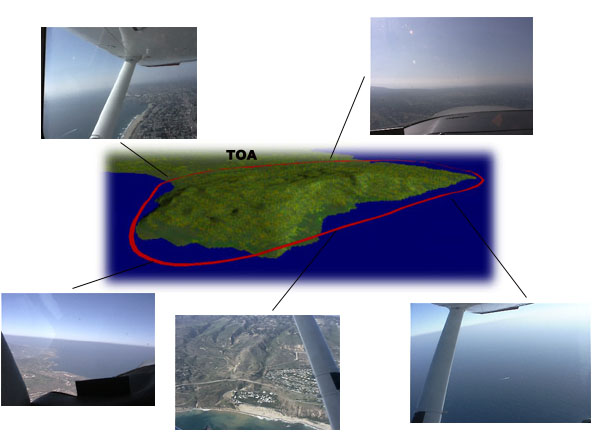 ---
Feb 29 1998
Wind 10knts

This is a pattern work flight. I made the pattern work at Torrance(TOA), Hawthorn(HHR) and Compton(CPM)

This is a 3D view of the same data. Garmin GPS does not record height data.

Magnified around Compton pattern work. Entering the pattern is 45 degree, right? I have left tendency after take off from Compton.

For your interest, this is an aerial photo of LA southbay area around Torrance airport.
Thanks to Kashmir 3D engine, my CG image is very similar to this photo.
---
Mar 21 1998
Wind 15-20knts , 270 departure from 29R, Steep turns, Power on,Power off stall, S-turn,emergency

| | |
| --- | --- |
| This is my review flight. You can see my steep turn on the left and my S-turn on the right edge. | This time wind is so strong, so my pattern work is bigger than before. |
| This is magnified S-turn view. imagine a breakwater in the middle. good job right? | This is my steep turn. Have a focus on perfectness of the circles and references(exit same direction to enter) |
Mar 7 1998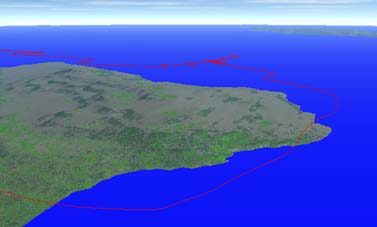 This is another my review flight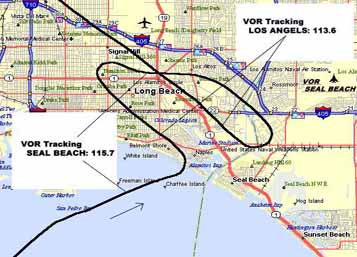 This is a view of VOR tracking to SEAL BEACH & LOS ANGELS.
The air was so turbulent...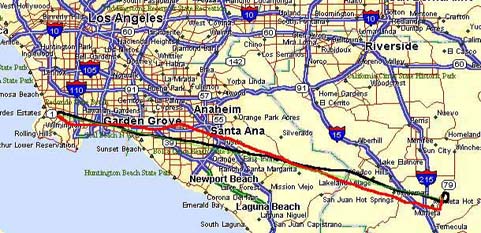 This is my first (dual) XC, Torrance to French Valley.
Green line is a true course(Direct route between two points), Black line is Torrance to the French Valley, the red line is the return path.
The black line is good, almost trace the planned path. However, when I return, I missed the course a little bit. The weather was hazy. When I got to Anaheim, my instructor cried "Disney land below!". Oh boy, this is not the trip to the Disneyland, I aware the mistake and correct the route...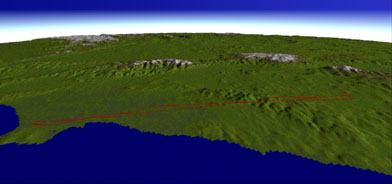 This is 3D image of the route.I passed over the mountain at 5500 feet.

This is a night XC(cross country) flight to Palomar(CRQ).
Lights on the Pacific coast highway guided us. Just over the Long beach city, we saw a fireworks burning at night. We saw it above the fireworks...just breath taking.

The sky over the Palomar was covered with clouds and we once lost the rout...we misunderstood Oceanside airport as Palomar.

This is magnified view around Palomar.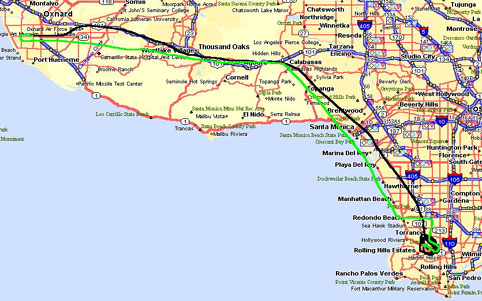 This is a XC flight to Oxnard airport. (about 55 miles)Wind aloft=300/17
The black line is a rout to Oxnard and the green one is a rout come back to Torrance.
In either case, we have to cross LAX B class airspace.
In the black rout , we used Special VFR rout known as "Corridor". In the green rout, we used shoreline rout 0.5 miles away from the beach.
We have just followed the 101 freeway and get to the Oxnard.
The view from 3500 feets above the LAX was unforgettable...
---

We used mountain top as a visual reference point.
---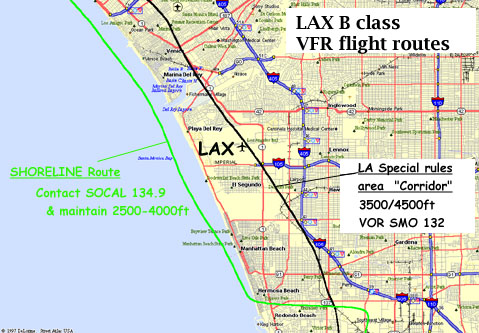 ...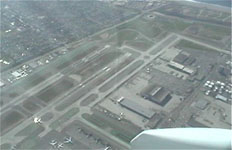 LThis is magnified view around LAX(Los Angels International Airport - second or third busiest airspace in the world!)
We do not have to contact with ATC of the LAX but we have to contact with SOCAL approach control in the shoreline rout.
Big airliners are moving under us...
---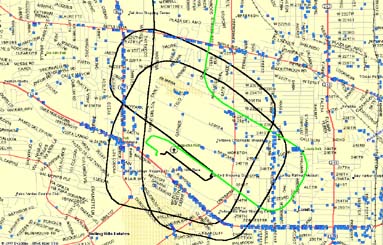 ...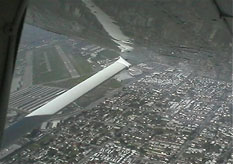 We have to climb up to 4500 feet before entering the corridor.
So we use box shaped climb method...it takes about 11 minutes!